My big family
When I was freshly 18 years old, I watched Gilmore Girls all day with my sisters and mom. The next day, I left for college. But not before my oldest sister Amy broke the exciting news that she was pregnant. I say all this, because my family is close. Like the Tanner Family level of close, or the Von Trapps, as my uncle would always say, because we liked to sing together. Being that this was our first addition to the next generation, the announcement was full of happy yells, crying, hugging, and dancing. And when I say dancing, I mean shaking. Because for some reason whenever anyone in our family gets excited, we shake.
Time Flies
That was ten years ago. I now have 7 nieces and nephews. 8 actually, counting my husband's nephew – who I am honored to be his aunt and excited to get to know better. These kids of mine are the reason I kept going with photography when I first got inspired by it. Bentley, my first nephew, grew so fast. Still is, to be honest. I didn't want to miss any second of it. And being that I lived 100 miles away, I wanted documentation of my own to keep up with his life. Then Henry came, and it was fun to lie the two down next to each other and compare sizes, shapes of faces, and hair color. From there, Cooper and SueSue sprang on to the scene and there was no keeping up. Just letting it happen. Avery was next and brought in a very calm and old soul presence to the madness (note: good madness). Zachary rounded us out with 6, and lives true to his nickname "bam bam" (I only call him that). And then there was Mackenzie, or Ken-Ken. The silly girl who just wants to be big.
I'm a very proud Aunt. I love seeing what they do in front of my camera and how they forge their own unique lives. My journey with photography began with family. And it will always be a very important and special piece of it as I grow.
A Note from Ferris
All I'm saying with this is best said by Ferris Bueller. Life moves fast. Slow it down. Take a look around. And look back every once in a while. My family and I are long gone from that day before I left for college. But I still remember how Bentley looked as a baby. Those old man eyes and wrinkly cheeks are important to me. Can you relate?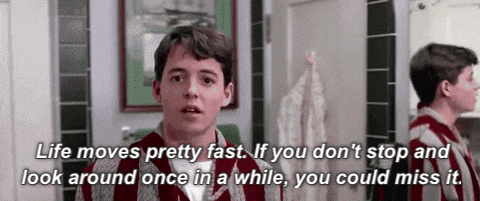 Outtakes from Thanksgiving
We go to Chelan each year. And every year I try to get the kids in front of the camera. This year, I made it all about choice. They chose where they went with me, what they were holding, and how they were standing. Bonus points were given if it was fun. And that meant getting to take the camera into their own hands and take their own picture.
Check it out:
If you're looking for family photos, hit me up. Let's take your kids for an adventure and make some memories for everyone 🙂 Contact me right here: https://kirschcreative.com/contact